Chiropractic Care
Healing the Natural Way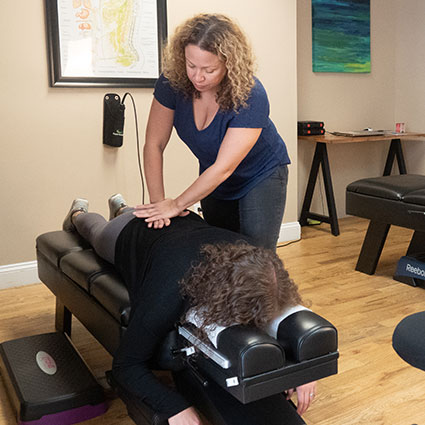 Natural and holistic, chiropractic is healthcare that focuses on your whole body. We recognize the human body is born with the ability to self-heal. Our role as chiropractors is to ensure it's structurally sound and in alignment, allowing healing to take place.
Proper alignment is necessary for your body to function the way it should. If misaligned, your spine cannot move the way it's supposed to, causing pain and discomfort.
Understanding Stress
When patients come into our office in pain, it's important we assess how much stress their body is experiencing. The amount of stress accumulated affects the degree of pain, and which tissues, muscles, tendons and ligaments are involved.
Chiropractic adjustment relieves stress, creating balance in the spine to reduce pain. Muscle, ligament and tendon function is restored as well.
How Can It Help Me?
At Pro-Holistic Care, we use a corrective approach to care. First, we want to address your pain and main complaint. Chiropractic provides the tools to determine what's wrong, how to correct it, and how to keep it from happening again. We'll discover the root of your problem and help you correct it.
Less pain, less physical stress, fewer headaches, more mobility, and better fitness are some benefits patients may experience. As symptoms improve and function returns to normal, patients move into the maintenance/wellness phase of care. Learning how to maintain overall health for the long-term allows you to live your best life.
Our patients have seen improvement in these conditions
Anxiety
Pain in the neck, upper and lower back
Pelvic pain
Menstrual problems
Stress
Pain in arms and legs
Ankle and foot problems
Constipation
Nerve pain
Asthma symptoms
Sinus problems
And more…
Primarily using Diversified Technique and Thompson Drop, Dr. Vargas adjusts to the comfort of his patient. With years of experience, he can modify treatment to suit your condition. Safe, effective and gentle, we offer chiropractic treatment for every member of your family.
Get Pain Relief and More!
Contact Pro-Holistic Care to reduce your pain and improve your overall health and wellness. Start living the life you love, make an appointment today.
CONTACT US »
---
Chiropractic Care | (773) 279-9344