Meet Dr. Rae Bouvin
I love working with people to improve their health, and view chiropractic as more of a healthy lifestyle choice than just an answer to pain. Chiropractic is both, and can help people start to enjoy life more and do the things they love."
Offering Hope and Healing Help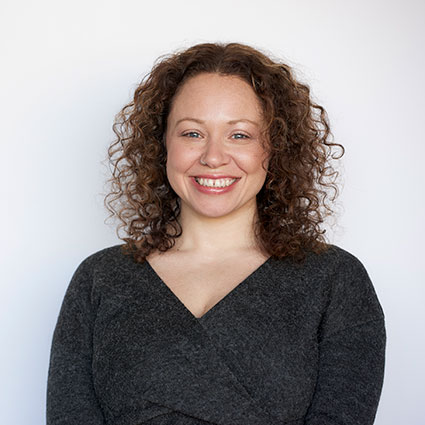 When a patient walks into our practice, they can tell that Dr. Rae is delighted to see them and truly cares about helping them. She takes the time to listen to each patient and what their concerns are.
Dr. Rae also finds it fulfilling to give patients hope. "I'm passionate about helping people feel more hopeful that they can have abundant health and feel good in their body even if they haven't in a long time."
The Path to Becoming a Chiropractor
Dr. Rae didn't always plan on becoming a chiropractor. In college, she was studying to become a physical therapist. Although she enjoyed it, she didn't feel like PT was the right fit for her. Dr. Rae also knew that she didn't want to become a traditional MD.
One of Dr. Rae's classmates mentioned they were going to chiropractic school, and it just clicked for Dr. Rae. She also was aware of the powerful effects of chiropractic—as a chiropractor helped her when she was a teen, suffering from neck pain and headaches due to water skiing wipeouts. "That chiropractor helped me more than anyone."
Education & Certifications
Dr. Rae earned her Doctor of Chiropractic from the National University of Health Sciences in 2006. One of the most significant moments of her time there was when she woke up in severe pain, so debilitating she almost had to quit school. "I had severe arthritis and disc degeneration in my neck at the age of 23. The doctors in the clinic worked on me for six months to get rid of my pain and regain strength in my arm that I had lost."
In addition to her doctorate, Dr. Rae achieved the following:
Kinesiotaping Certification (July 2005)
Advanced Clinical Orthopedics and Rehabilitation (April 2005)
Acupuncture and Meridian Therapy – certified with 100 hours of training (April 2005)
Perinatal Care with Webster Technique Certification (October 2007)
Mei Zen Cosmetic Acupuncture for Face (October 2007)
SOT Pediatric Cranial Adjusting (December 2007)
Mei Zen Cosmetic Acupuncture for Face, Neck and Abdomen with certification (June 2008)
Mei Zen Acupuncture for Infertility (September 2008)
From May 2009-July 2010, Dr. Rae also completed extensive pediatric coursework through the International Chiropractic Pediatric Association. She is ICPA Pediatric Certification Eligible.
EXPLORE OUR SERVICES »
Hobbies and Family
When she's not at the practice, Dr. Rae enjoys spending time with her husband, Dr. Vargas, and their three sons. She particularly likes water skiing and playing baseball or football with the boys.
Dr. Rae also enjoys reading women's lit or murder mystery novels, and being on vacation, preferably somewhere on the ocean. She and Dr. Vargas love traveling, boating, playing sports and beating each other in their fantasy football games.
A Chicago native, who also lived in Wonder Lake for part of her childhood, Dr. Rae comes from a large family. She has two brothers, many cousins, several nieces and nephews, and five parents.
Book an Appointment
Contact us today to schedule an appointment with Dr. Rae!
---
Dr. Rae Bouvin | (773) 279-9344