New Patients at Pro-Holistic Care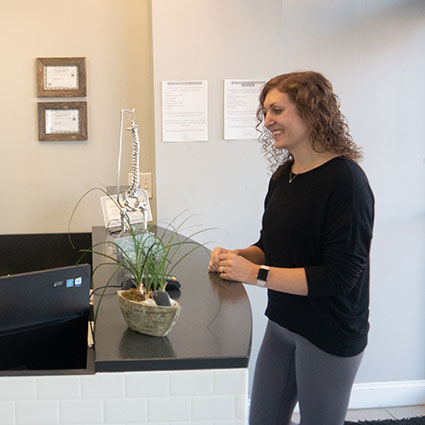 When you come to our office for the first time, you'll be impressed by the happy, welcoming atmosphere. This is no sterile doctor's office! We'll greet you by name and make sure you're taken care of while you're here. Enjoy the music and start a conversation with your neighbor.
We value you, your time, your health, and the trust you place in us. Before your first visit, we'll email you our intake form. Please bring the completed form to your appointment to prevent an extended delay in the waiting area. Dress in comfortable clothes and remember to bring your ID and any reports or scans the doctor needs to review.
The Initial Visit
Our current onboarding process takes place over your first two visits; each will run approximately 45 minutes. At the first visit, we'll collect all necessary data, including health history, physical examination, and any scan or test results.
After the doctor has a chance to review and evaluate the data, you'll receive your first treatment, if indicated.
When You Return
On the second visit, the doctor will discuss all your results with you, and answer any questions you might have. You'll receive your care plan, tailored to your unique situation. Subsequent visits will be scheduled and you'll also receive the second treatment.
Finances
Finances are discussed at the initial visit to ensure everyone understands what's involved. Our friendly and knowledgeable front desk staff will explain all options and answer any questions you may have. If there are any issues, they will arrange a private consultant with the doctor.
We are in network with BlueCross BlueShield and Aetna. We accept all major credit cards and HSA plans. Cash payment plans are also available.
New Patient Specials
We offer three new patient specials; one is sure to fit your needs:
BASIC PACKAGE
One visit
$89.00 ($160.00 value)
Includes evaluation and treatment.
ESSENTIAL PACKAGE
Two Visits including evaluation, treatment and follow up visit with treatment
$99.00 ($220.00 value)
Most Popular
OPTIMAL PACKAGE
Two visits including evaluation and treatment
Comprehensive Functional Medicine blood and urinalysis panel
Follow up with Functional Medicine report and recommendations
$390.00 ($610.00 value)
Most Complete
Customer Satisfaction is Important
We want all our patients to know we care about them and their health. We're here for you; contact our office to speak with our staff on how to get started on your health journey.
CONTACT US »
---
New Patients at Pro-Holistic Care | (773) 279-9344